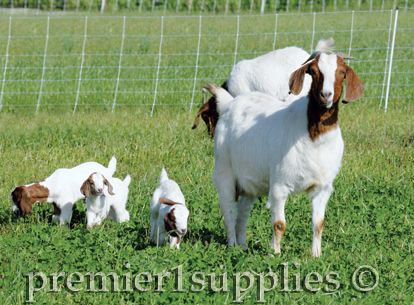 A common phrase when fencing goats: "If you can pour water through it, a goat will go through it." Properly electrified ElectroNet® (ElectroNet® Plus 9/35/12 shown in photo above) and ElectroStop®may not be watertight, but they can certainly be goat-tight.
Goat Health Management
It's a good time of year to be a haemonchus contortus or D. nodosus. The days are warm, the grass growth explosive and the goats are on pasture.
For folks interested in managing against footrot or worm infestations, the folks from Iowa State University, Purdue University, University of Maryland and University of Kentucky have kindly shared a few tips and hints.
VIP ARTICLE
Footrot in Sheep and Goats
By Lynn Pezzanite, Animal Sciences Student; Dr. Mike Neary, Small Ruminant Extension Specialist, Purdue University; and Terry Hutchens, Extension Goat Specialist, University of Kentucky
Footrot is a costly disease in the sheep and goat industry. Countless producers lose time and money each year in an attempt to control it in their flock or herd. If footrot becomes a problem, it takes much effort and labor to control symptoms and eliminate it. However, footrot is a preventable disease with attentive management.
Causes of Footrot
Footrot is caused by the coexistence of two gram-negative, anaerobic bacteria, Fusobacterium necrophorum and Dichelobacter nodosus (also referred to as Bacteroides nodosus). Several different strains of D. nodosus affect both sheep and goats, and can also be carried by cattle, deer, and horses. In general, sheep are affected more severely than goats. Read More »