2014 EQUIPMENT BOOKLET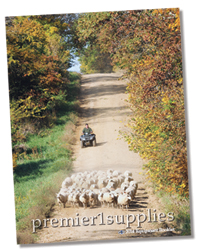 New!
2014 Equipment Booklet
It includes, along with our standard products, the following new items:
| | |
| --- | --- |
| • | Goat Bells: Wide choice of attractive designs that differ in tone, cost and size. |
| • | Barn Bells: High-quality brass cast bells with ornamental black metal hardware. Make your house or barn distinctive. |
| • | Qwik Tags and Applicator :Small, low-cost, temporary one-piece nylon tag for goat kids and lambs. |
| • | EZ CatchNet: Nifty way to catch kids and lambs that are too small to be caught with a crook. Also works for catching chickens and geese. |
| • | Cradle: An easy-to-use-and-wash kid and lamb carrier. Plastic ridges securely grip slick newborns. |
| • | Tooth File: Some does reject newborn kids that have sharp teeth. A quick touch with a file means fewer orphans. |
| • | Large Braided Halters andNeck Ropes: For use on older animals. Same quality materials and construction as our other braided products. |
Didn't receive Premier's new 2014 "Equipment Booklet" in your mailbox?
If not, request a catalog or you can go to our website to view all of our products.